Singapore...
is the cleanest and safest city you will ever visit, and that's no accident. The laws in Singapore are strict and the punishments for breaking them severe. That said, Singapore is actually a pretty fun city if you know where to look for the nightlife and excitement. The Boat Quay (Key) and Robertson Qauy areas downtown on the river are full of bars, sidewalk seafood restaurants and people. If you're into the nightclub scene, head down to Mohammed Sultan Road, where the chic of Singapore can be found among the various watering holes there. If it's shopping you're after, Singapore has it in abundance on Orchard Road (the Rodeo Drive of Asia), as well as Suntec City, a part of downtown that houses skyscraper malls and shopping centers connected by skybridges and the glow of neon.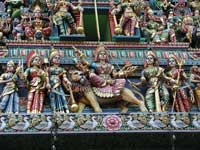 A close up of the facade of the
Temple of a Thousand Lights.
(click for enlargement)
Getting around Singapore is fairly easy as it's public transportation system is very efficient. The subways are clean and reliable, as are the city buses and taxis. English is the first language of Singaporeans, but don't be surprised to hear Chinese, Malay, Tamil (Indian), Thai, French, or Japanese on a daily basis.
Unfortunately, i failed to capture any photos that really show the best Singapore has to offer, namely the fantastic architecture and amazingly lush landscaping of the city. Instead, i have only a few party pics and some random shots of downtown. But hey, if you want National Geographic, all you have to do is click.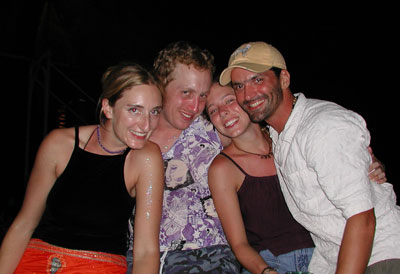 Melissa (BKK), Jared (Hanoi), Kelly and myself after many
vodka/red bulls at the Singapore Open tourney party on
Sentosa
.