THAILAND, "The Land of Smiles"
is basically the melting pot of Southeast Asia, combining Buddhist temples, remote villages, ideallic island beaches, modern cities, a thriving trade and tourist industry, and the ubiquitous Thai people themselves. Starting with Bangkok and the infamous Khao San Road, you get a sense of the dichotomy of Thai culture, where East meets west and age old traditions share the smog choked air with the latest commercial trends of America and Europe. Khao San is the hub of SE Asian travel, where you can arrange getaways to trek the mountains of Nepal, see the ruins of Angkor, navigate the Mekong from Laos to Vietnam, and of course, grab a beer and a 10 baht plate of pad thai. Almost all journeys in SE Asia start here, as Bangkok is one of the cheapest and busiest airports in all of Asia. If you forgot to pack something for your trip, odds are you can find it in Bangkok, and it will be cheaper than is was back home anyway.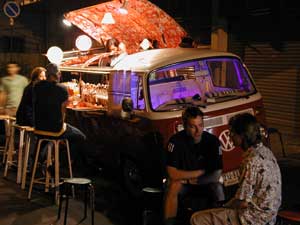 VW microbus turned streetside watering hole.
Khao San Road, Bangkok.