Kaimana Klassik
Trophy
Kaimana is indeed a classic tourney. The setting at the foot of the Waimanalo mountain range on O'ahu is breathtaking, and the campsite at the beach ain't so bad either. It's always good to follow up a long day of ultimate with a couple of cold beers and a little body surfing. This year i was fortunate enough to win the design contest for the tourney discs and shirts, and was able to meet a lot of the local Hawaii team members and pitch in with the set up of the tourney. I gotta extend a big thanks to Andre, Rocky, Mondo, Buffy and the rest of the crew for welcoming me to their disc scene.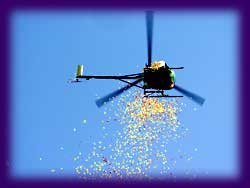 The opening festivities of this years
Kaimana Klassik featured a helicopter drop of several thousand flowers on the crowd.
As for the tourney, Ben (my teammate from Singapore) and i played with the traditional pick up squad, Aloha Spirit Aina, and went an impressive 0-6 for the show. Our team highlight was scoring 10 points on Nada Mooger, the eventual champions of KKXV. Also, Ben and i got to reunite with our soul sister Nicole from Sydney, Australia, who we played with on the winning team
at this years Melbourne Hat XII. Nic's team, 7 Green Bottles (a reference to her teams affinity for Tanqueray) went on to win the womens division of Kaimana.

Due to lack of organizational skills, i failed to capture a team picture, but since we didn't win a single game, i'm not losing too much sleep over it. Suffice to say, there were some cool and talented players on the team...among them Mark from Portland, Lloyd from Motor City, Josh from Alaska, Ignachio from Hawaii, Doug, Charles, Chuck, and even Burn, who wasn't content to lose every game with his own team, so he picked up with us to lose some more, a real glutton for punishment, that guy....