The Hawaiian Islands
On the way the way back to the US mainland from Thailand, i schedued a little "readjustment" time in the Hawaii. First was Oahu, where i spent my first weekend playing in the Kaimana Klassik Ultimate Tournament, then i went on to spend a couple of days the Hilton on Waikiki, in the shadow of Diamond Head. After months of cold showers and periodically living in tents and bungalows, it was pure decadence. In spite of what i had heard about Honolulu (crowded, terrible traffic, etc.) i really dug it. There are some beautiful parks downtown and a great pedestrian mall called the Aloha Tower Marketplace.
I did a cool twin-wreck dive with Kenny and Chava off the coast of Waikiki and we had the good fortune to see a humpback whale mother and calf frolicking about 100m away from our dive boat. The calf was breaching out of the water about once every couple of minutes for nearly half an hour. Our dive master told us he had been living there for 15 years and never had seen whale activity that close to Honolulu and Waikiki, so it was evidently more of a spectacle that we would have guessed. As our first whale encounter, it was pretty exciting.
A few days later we all hopped a flight to Kauai, and headed to Hanalei Bay, on the north shore. Ken, Chav and i spent a few relaxing days on the beach at Hanalei Colony Resort and also did a short hike to Hanakapai'i Falls.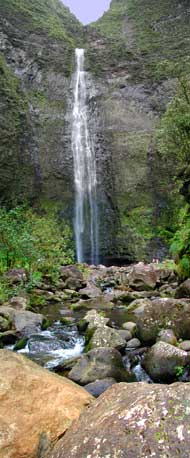 Hanakapai'i Falls on the Napali Coast.
A few days later we met Sara Wall and her family, who live near Kilauea (kil-lah-way-uh). Sara is a local photographer and a good friend of Suzanne and Dick Renko. Sara's family were great to hang out with and really opened up their home to me, literally. I camped in their yard and ate dinner at their table many a night. It was a great to share in a real family atmosphere while on Kaua'i, and it made the island and its people that much more inviting. If your interested in seeing some great images of Kauai through the eyes of a true local Kama'aina, check out some of Sara's work at sarawallphotography.com.
After a week or so on the north shore, i got hooked up with a sweet house to call my own for a couple of weeks. It's the vacation home of Greg & Michelle Smith, from Fayetteville. The Smith Hale is a beautiful home and perfect getaway from the touristy side of Hawaii. Located 4 miles inland, and surrounded by a working ranch, it was a great place to spend some serious R&R. While i was there, i rented a mt. bike from the local shop in Kapa'a, and did some backcountry riding in the Wailua River canyon. After a week on the bike, some days getting thoroughly drenched, i upgraded to a Jeep Wrangler just in time to pick up Kelly from the airport as she arrived from Thailand. We spent the next few days covering as much of Kauai as we could, including the lava blowholes near the beaches of Po'ipu, the Waimea Canyon (the Grand Canyon of Hawaii), and the beaches of the western shore. Man, that was a good time.